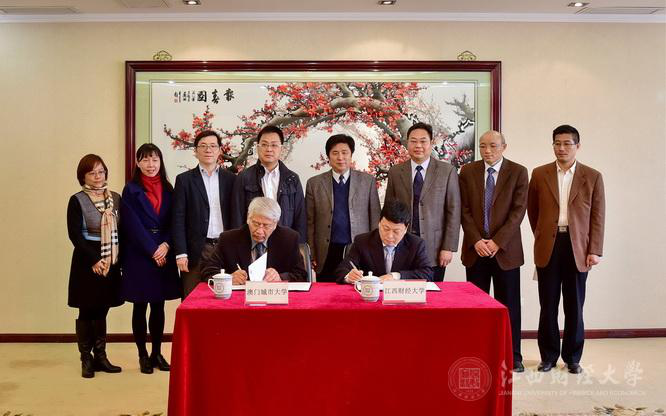 A delegation from City University of Macau led by President Zhang Shuguang, Secretary-General of the school board Cheng Junba and Vice Executive President of International Tourism and Management School have recently paid a visit to our university. President Wang Qiao and Vice President Wang Xiaoping of JUFE have received the visitors. Concerned staff from Office of the President, Office of International Cooperation and Exchange and School of Business Administration also attended the meeting.
The two universities have attached great importance to promoting exchange and cooperation and have made full preparations for this visit. During this visit, both universities shared the development situation and had a discussion on strengthening future cooperation.
After the meeting, the two universities jointly signed a letter of intent to cooperate, hoping to further broaden cooperation and promote common development. Both sides have reached a preliminary consensus on many aspects of cooperation, including strengthening the mutual visit and exchange of teachers and students from both universities, establishing the mechanism of cooperative education of students, cooperation on top students who can exempt from admission exam, and cooperation on the project of DBA. Both universities are expecting to implement a timely and efficient cooperation in the future.